Eliminate Costly End-of-Line Errors & Rework with PalletWorks
PalletWorks is a fully integrated tracking and labeling software solution that helps manufacturers automate end-of-line tasks to eliminate rework due to human error. PalletWorks is a subscription-based SaaS platform that intelligently bridges the gap between the manufacturing floor and the ERP system. With the PalletWorks web portal, operators can mass edit and reprint labels before sending the information to the ERP, resulting in better product tracking, inventory accuracy, and fulfillment efficiency.
PalletWorks: A Software Solution that Integrates End-of-Line Production Tasks
Your manufacturing process may have an automated packaging and labeling system, but if you don't have real-time visibility into your inventory after production is complete, your system isn't truly integrated.
Cybertrol Engineerings' PalletWorks not only integrates with packaging and labeling hardware on the plant floor, but also communicates with existing controls and ERP systems. This unrivaled and complete integration makes PalletWorks an ideal solution for increasing production accuracy and simplifying tasks at the end of the line, all through a single vendor. PalletWorks includes everything required for an enterprise-level tracking and labeling solution. PalletWorks software continuously monitors throughput, labels cases and pallets, records production data, and can be seamlessly integrated with the ERP system for real-time updates. In addition to its automated features, it also allows operators the flexibility of bulk editing and label reprints before data transfer to the ERP or other business systems.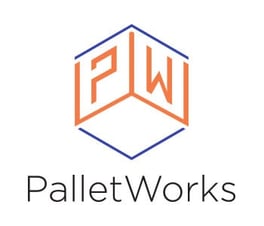 Records, tracks, and labels cases as they are loaded on pallets

Allows bulk editing and label reprints before data transfer to the ERP

Provides a configurable and operator-friendly web-based portal, accessible from industrial tablets on the floor as well as back-office PCs

Leverages HMI screens to highlight hardware statuses

Integrates easily into any modern control system or manufacturing environment

Cybertrol Engineering offers 24/7/365 support for PalletWorks, including remote monitoring, diagnostics, and troubleshooting
PalletWorks Portal and User Interface
The PalletWorks (PW) web-based portal is the primary means of operation and is designed to be used on an industrial tablet and/or traditional PC. The software collects, tracks, and records data throughout the labeling process. Operators can review and edit the data in the PalletWorks portal, ensuring accurate information is sent to ERP or other business systems (through API integration).
User interface can be configured to use terms familiar to your organization
Data can be visible or hidden to focus an operator's attention
Production workflows can be customized with configuration options
Integration triggers with the ERP can be set and automated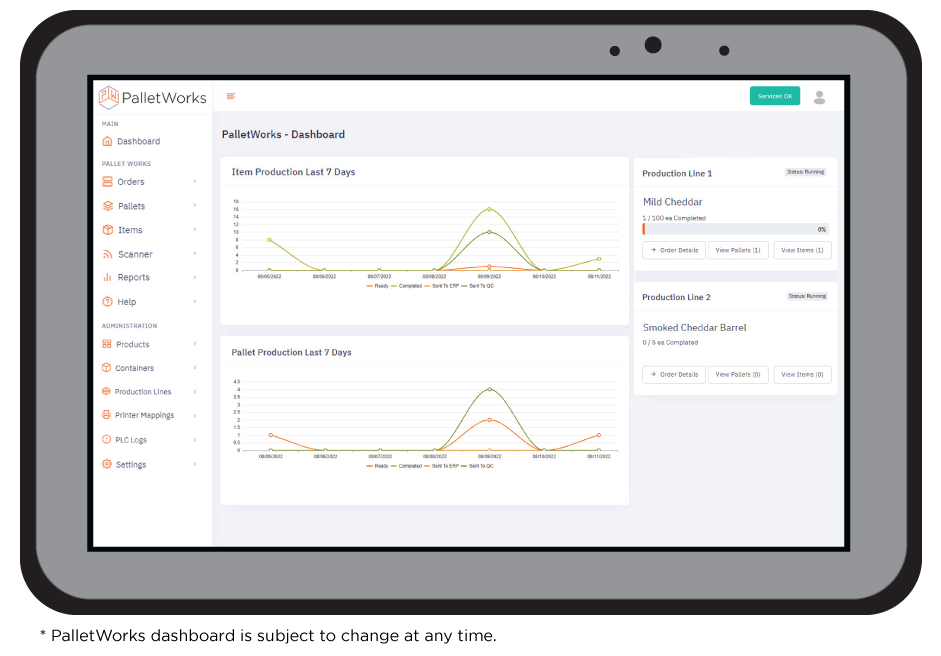 Reduce the Risk of Human Error by Automating Tasks
For many manufacturers, every step at the end-of-the-line has some sort of manual process with multiple people involved. This level of human interaction often leads to unintentional errors when printing and applying labels. PalletWorks is a fully-integrated solution designed to help manufacturers reduce human error and automate end-of-line tasks.
PalletWorks: An Auditor for Your End-of-line Tasks
Continuously records and validates production data in real-time
Collects an inventory of items on a pallet
Communicates with ERP systems for seamless data flow
Generates feedback reports on production output
Ensures labels are accurate, properly applied, and can be machine scanned
Manages order fulfillment during production runs
Identifies production errors as they occur on the line
Allows operators to correct inaccurate data before it's sent to the ERP
PalletWorks on the Production Line
What's happening on the production line?
Order is active on production line
Item is created (i.e. Scale)
Printer/applicator applies item label
Industrial scanner scans item label
Pallet is stacked and shrink-wrapped
Printer/applicator applies pallet label
Industrial scanner scans pallet label
What's happening in PalletWorks (PW)?
Set active order in PW portal (PLC integration/manual entry)
PW receives signal from PLC that an item is created
PW sends request to print item label
PW waits for item label to be scanned to identify any errors
PW creates a digital STACK of the pallet
PW sends request to print pallet label
PW waits for pallet label to be scanned to identify any errors
PalletWorks Product Levels & Licensing
| | | | |
| --- | --- | --- | --- |
| | Basic | Pro | Enterprise |
| Main Features | | | |
| Tracks items created by unique identifier | | | |
| Tracks items stacked on pallets | | | |
| Tracks pallets by unique identifier | | | |
| Hand scanner compatibility | | | |
| Verify labels are printed & applied correctly | | | |
| Labels | | | |
| Basic labels | | | |
| Customized labels | | | |
| Customized labels by product | | | |
| Optional Features | | | |
| Automatically print pallet labels | | | |
| Automatic order switching | | | |
| Upstream printing | | | |
| Sample tagging | | | |
| Override active order | | | |
| Multiple orders active | | | |
| High speed line compatibility | | | |
| Integrations | | | |
| REST API Endpoints | | | |
| PLC/HMI Integration | | | |
| Customized ERP integration | | | |
| Security | | | |
| Basic logins | | | |
| Active directory authentication | | | |
| Support | | | |
| Extensive logging for troubleshooting | | | |
| Direct remote support visibility | | | |
PalletWorks New Project Request
PalletWorks integrates with your ERP system to coordinate packaging line configuration and report finished goods production.
Support for both on-premise and cloud-hosted ERP systems
Orders from ERP readily available for selection at each packaging line
Product validation ensures correct product is used to fulfill orders
Flexible product identification schemes accommodate existing labeling requirements
Validated production seamlessly reported to ERP and/or WMS systems
Manual pallet creation capability minimizes inventory discrepancies and empowers staff
PalletWorks was created with self-sufficiency and maintenance in mind. It is not a "black box" solution, and is easily configured, maintained, and even expanded upon by local engineering resources. Much of PalletWorks' power comes from it's presence at the controls level, allowing it to integrate directly with other equipment in the packaging process including printers, conveyors, palletizers, pallet wrappers, and AGV systems. The programming for PalletWorks is completely open, making it efficient to troubleshoot and tailor to your exact requirements.
While PalletWorks can be provided a turnkey solution including printing, scanning, labeling, and operator interface hardware, it can also be retrofitted into existing infrastructure and is platform agnostic. We have existing templates for a number of HMI platforms and support dozens of printer manufacturers including:
Rockwell Automation
WonderWare
Inductive Automation
Zebra
VideoJet
SATO
Domino
Markem-Imaje