Join Our Team!
Are you looking for a great opportunity where you can be a key contributor to the success of a growing team! At Cybertrol, you will apply your skills in a culture that focuses on commitment to high quality solutions for our customers while emphasizing personal and professional growth for our employees.
Cybertrol Engineering creates and delivers custom-engineered automation hardware and software solutions to manufacturing customers throughout the upper Midwest and across the world. We are privately owned, headquartered in Minneapolis, and have additional offices in Madison and Marshfield, WI. We have an extraordinarily strong engineering culture that emphasizes both personal and professional growth along with a commitment to provide high-quality solutions including: plantwide automation, information and industrial IT/OT infrastructure, custom UL control panel design and fabrication, and upgrades of obsolete automation systems.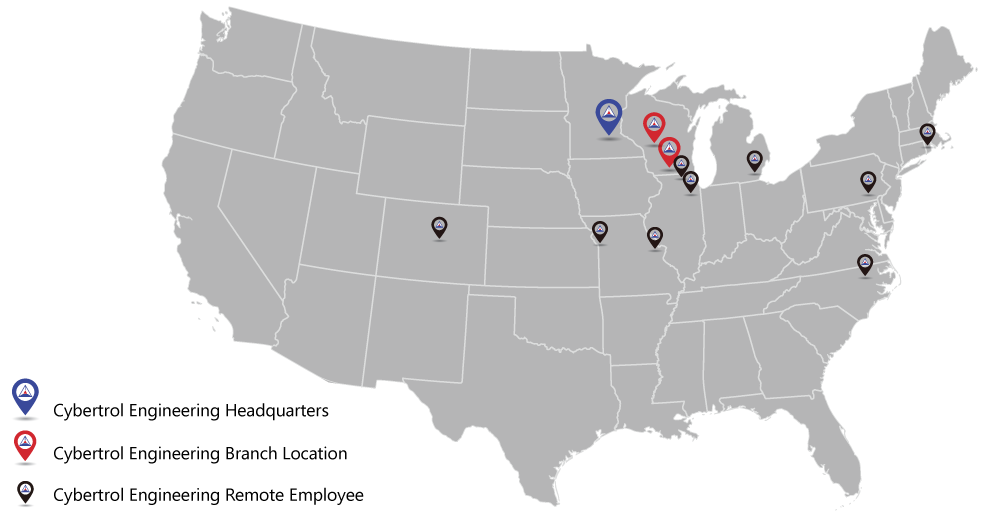 Opportunities at Cybertrol Engineering
As solution experts, industry innovators, and technology leaders, Cybertrol has provided employees with the opportunity to work on intellectually-stimulating and always evolving projects. We hire the best individuals – those who embody our mission and share our values.
Hybrid positions may be based out of any of our three locations: Minneapolis, MN (HQ); Madison, WI; or Marshfield, WI.