Industrial IT Services – OT Network Assessments
It's very important for a manufacturer to have a properly designed and documented network in order to scale up for future expansion. An OT network assessment from Cybertrol can identify current issues and serves as a starting point for infrastructure development, expansion, and upgrade discussions. We find out where you currently are, where you should be, and create a plan using best practices and industry standards to get you to where you need to be.
Successful technology deployment depends on an accurate assessment of the current network and a detailed understanding of security and compliance policies. Ethernet-based networks are great for the plant floor, as they allow for standardization of media and the ability to easily communicate and view production data. However, they come with an increased need for security and demand a design skill set that only comes from experience—this is why you bring in the experts.
Cybertrol Engineering has the experience and proven ability to provide secure, reliable industrial networks. We provide thorough analysis, design, construction, and integration in a coordinated plan to ensure smooth execution from start to finish. We will be involved in the process every step of the way and offer full system support contracts as a managed service provider (MSP).
Interested in an Assessment?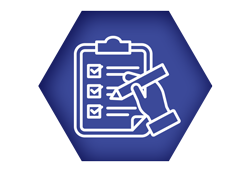 Step 1. Discovery
Through interviews with key stakeholders, our experts will discover where your network is today and identify your business goals for the future.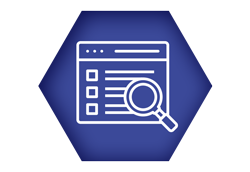 Step 2. Audit
A comprehensive audit of the current network is performed to generate an inventory of devices and a map showing how they are all connected.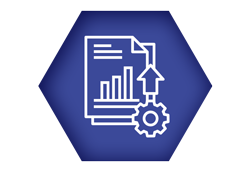 Step 3. Report
A customized report that contains a complete network inventory; topology diagram; and our recommendations is delivered and reviewed.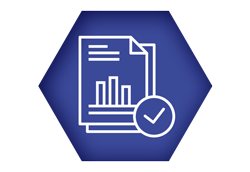 Step 4. Actualize
After system discovery, audit, and report review, it's time for a system implementation from a company that has a proven track record.
On-site Network Assessment
Cybertrol Engineering will perform an on-site network assessment and provide recommendations to improve the overall system redundancy, security, and performance to align with current industry best practices. To accomplish this, Cybertrol examines network configurations and documentation provided by the customer relating to the physical and logical layout of the OT network, as well as its existing components. A site visit is performed to allow for verification of the provided documentation and assumptions that are made where information is unknown. Cybertrol will develop high-level current and future state controls infrastructure diagrams and present a recommended path forward.
Cybertrol's network assessments focus on the following areas:
Separation of information technology (IT) and operational technology (OT) network infrastructure and configurations/server infrastructure using CPwE (Converged Plantwide Ethernet) guidelines
Current network switch hardware
Future network recommendations
Recommendations for secure data transfer
Analysis of network traffic bandwidth
Alignment with industry best practices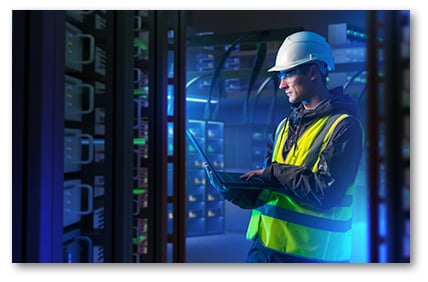 Post-Assessment Report, Review, and Recommendations
A high-level report with our discoveries and supporting documentation will be provided following the on-site assessment including:
Document:

Existing network components that are connected to the plant automation network (PLC's, HMI's, Ethernet-based I/O, network switches, IP cameras) including device nameplate photographs and software capabilities (managed vs. unmanaged)
Existing connections and connector types, fiber strands (if applicable), media converter(s)
Power source(s) for components including UPS's in place and/or redundant power supplies
Checking of:

Network services (DHCP Servers, default routers, DNS servers) Bandwidth Assessment (Wired)
Overall network bandwidth to identify high traffic devices and overall network throughput

This assumes devices are plugged into switches that support SNVP (Simple Network Management Protocol) v2 or v3
Visual Studio or equivalent network architecture map showing existing plant devices and specific switch ports they are plugged into
This assumes devices are plugged into switches that support SNMPv2 or SNVPv3
A walk through and physical inspection to ensure industry standards and compliance
Photographs of network enclosures showing installation locations
The current security practices and segmentation of the OT network will be reviewed
Provide site overview report with recommendations for immediate and long-term solutions
Develop cost estimates for recommended upgrades or remediation efforts
Any recommended updates to the composition of the manufacturing network following this assessment will be based on Cybertrol's adherence to industry-wide standards.
HOW A NETWORK ASSESSMENT CAN HELP
SPEED
Network is Faster
Using current cabling and hardware standards allows the network to be optimized for better flow of network traffic and faster speeds.
LESS DOWNTIME
Reliable Network
A network with a redundant structure allows for disasters to be avoided and allows the plant to run continually when it is scheduled.
SUPPORT
Faster Diagnostics
A network that is properly documented and follows the latest standards allows for quick a quick diagnosis when problems arise.
PEACE OF MIND
Feel Comfortable
The new operational technology (OT) network will allow your IT team to feel comfortable in the company's network infrastructure.